Culinary and Wine Tour 2023
BUENOS AIRES. SALTA. MENDOZA. BARILOCHE
Escorted by Chef Ricardo Fernandez Battini and his wife Suzanne
Click on the Date to view Itinerary
Monday, November 6th - Departure to Buenos Aires
All flights departing from USA to be confirmed at a later date.
Tuesday, November 7th - Buenos Aires
Morning arrival to Ezeiza International Airport
Private shuttle to the city, lunch at Gioia at: Palacio Duhau Park Hyatt Hotel
Check in by 3:00pm – Deluxe room/King with breakfast (Double)
Time to relax.
Reconvene for Dinner.
8:00 pm departure to Marcelo, P. Madero – Chef Marcelo Piegari
Wednesday, November 8th - Buenos Aires
DAY: Wednesday November 8th
Enjoy your breakfast and relax.
Recommended early visit to URU RECOLETA – leather factory, a place not to be missed for incredible leather goods.
Walk at leisure to the Museo Nacional de Bellas Artes.  (National Museum of Modern Art), or Recoleta's Cemetery.
Have Lunch at the classic argentine pizzeria El Cuartito founded in 1934.
Leisure time to shop through Calle Florida and Galeria Pacific.
Enjoy a coffee or a drink at La Biela, famous corner in Recoleta.
Reconvene for Dinner. 6:30pm Depart from Hotel
Gala Tango Show with Dinner 
Gala Tango is the most glamorous site in Buenos Aires.
The tango show is combined with a refine and elegant folklore and a quintet
orchestra and two singers.
Three Course Dinner with Argentine culinary classics before the show starts.
Thursday, November 9th - Buenos Aires to Salta
Transfer from hotel to Aeroparque. 
Flight AR 1454 11:10am 1:25 pm arrival in Salta
Private transfer to Sheraton Salta Hotel
Afternoon and Night at leisure
Friday, November 10th - Salta to Cafayate
8:00 am Departure hotel to Cafayate
12:00 Visit and tasting at Bodega El Porvenir de Cafayate
1:30 pm Lunch at Finca El Retiro (Argentine BBQ)
3:30 pm Transfer and check in at PIATTELLI WINE RESORT
5:00 pm Iconos wine tasting Bodega El Esteco
Return to hotel, night at leisure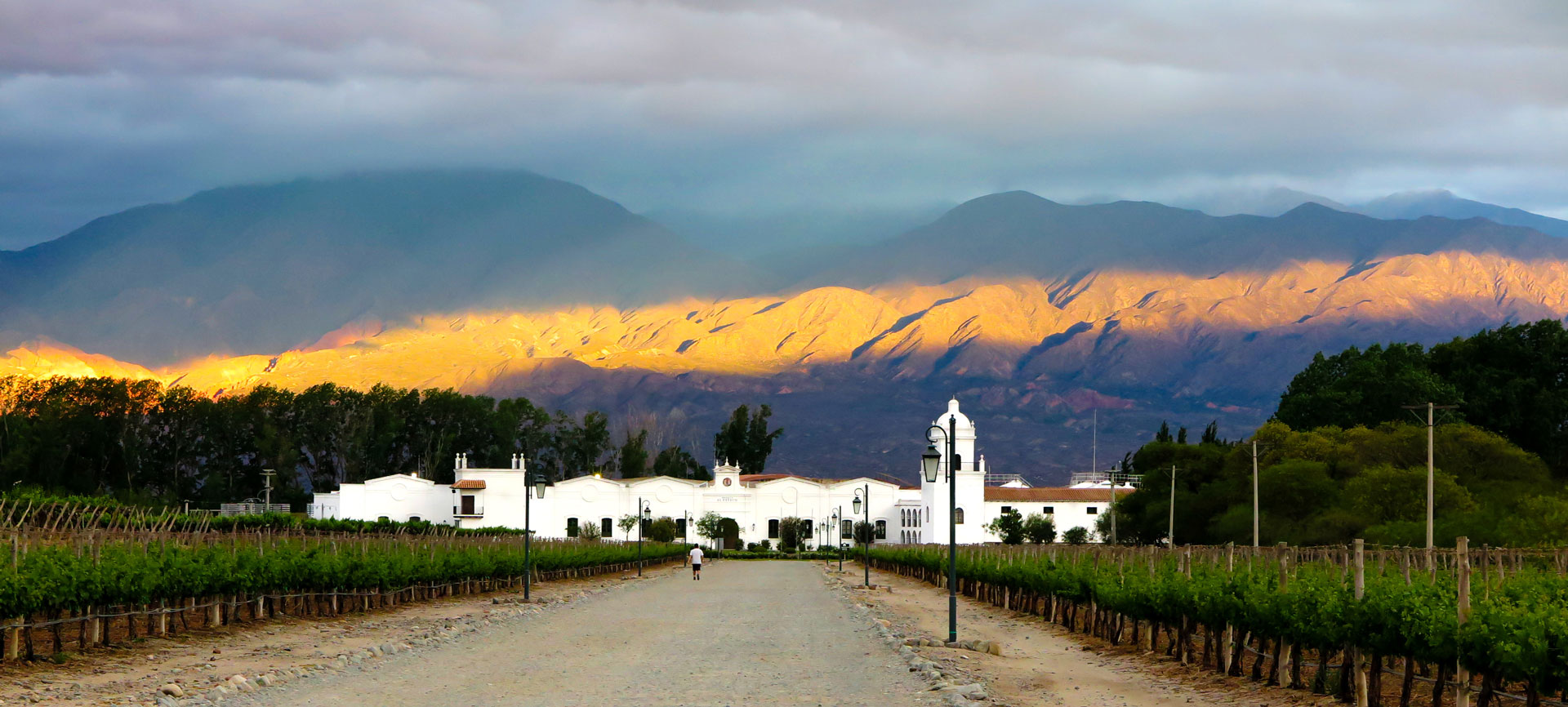 Saturday, November 11th - Cafayate
Enjoy your breakfast
9:00am Depart hotel
10:00am Visit and private tasting at San Pedro de Yacochuya Winery
12:00pm Private tasting at Piattelli Winery
1:30pm/2:00pm Private Lunch tasting at the resort
Afternoon at leisure, enjoy the Spa, pool, sauna and maybe a massage
4:30 pm:
Transfer visiting the Town of Cafayate, Plaza Cafayate, Artisanal Market, Museum of the Vine & Wine and the Cathedral
6:30 pm return to hotel. Night at leisure
Sunday, November 12th - Cafayate - Salta - Mendoza
Enjoy your breakfast.
7:30 am departure from the hotel to Salta Airport
Flight AR 1413 12:30 pm 2:15 pm Arrival in Mendoza
Private transfer from airport to: Diplomatic Hotel Corner City/Mountain view, King with breakfast

Night at leisure.
Monday, November 13th - Wineries in Uco Valley
9:00 am – Departure from the Hotel
In the morning we visit, Catena Zapata Winery.
In the year 1902, Nicolas Catena, an Italian immigrant, planted her first vineyards in Mendoza, Argentina. The cellar has remained in hands of the Catena family for three generations. In the last two decades, the proprietor of the cellar, Nicolás Catena Zapata has studied the different microclimates and terrains of the Mendocinean vinicultural region, to determine the best areas to plant Malbec, Chardonnay and Cabernet Sauvignon. Today, Nicolás Catena Zapata is recognized as the pioneer of the production of wines of quality in Mendoza. In the year 2001 they inaugurated their new cellar, Catena Zapata, inspired by Mayan architecture. The Cellar Catena Zapata is located in the area of Agrelo, in Mendoza at 950m above sea level.
12:00pm Visit and tasting at Achaval Ferrer Winery
Guardians of a legacy
In days when the old was quickly replaced by the new, Achaval Ferrer decided to preserve the legacy of time. Today, the legacy is still treasured. Keeping the DNA of centennial vines intact and combining wisdom with passion, we create wines that express the magic of the exceptional terroir they come from. That's what we do, because no one is more experienced than time or wiser than nature.
Philosophy
Respect for the terroir and minimum intervention. Since its origins, the winery has followed a clear pathway traced by commitment with and respect for nature. Achaval Ferrer bases its winemaking on fundamental pillars and a minimal intervention principle from the vine to the wine.
Our pillars
Ours are centennial, own-rooted vines, extremely low in yield; they're historical monuments to viticulture located on sun-drenched mountainsides irrigated by rivers Tunuyán and Mendoza. These are natural, privileged sites carefully treated to obtain the purest and most honest messages our soils can convey.
2:00pm Lunch tasting at Casa El Enemigo
Located in the town of Chachingo, heart of the department of Maipú, surrounded by different varieties of vineyards, olive trees and a winery is Casa El Enemigo, a restaurant where you can enjoy lunches, dinners and special tastings with the outstanding wine brands elaborated by owner Alejandro Vigil, renowned winemaker from Mendoza
Return to the hotel.  Night of Leisure.
Tuesday, November 14th - Wineries in Uco Valley
This area covers the highest vineyards of the province: up to 1,700 meters above sea level. Tupungato, Tunuyán and San Carlos are located in this area. Characterized by a top quality red and white wine production, wines grown in this region are suitable for prolonged ageing. The typical wine varieties of this area are Semillon and Malbec, but Chardonnay, Cabernet Sauvignon, Merlot, Tempranillo, and Syrah have been recently planted, with excellent results.

8:00 am – Departure from the Hotel
10:00am – Visit and tasting at Bodega Piedra Infinita

Piedra Infinita is located at the Uco Valley, at the foot of the Andes in Mendoza. Is the highest elevation cultivated in the region. In this privileged location the wines benefit from a cool and dry climate and a wide temperature range.
The construction of the winery began in 2013 and was inaugurated in 2016, the building is a tribute to the mountains, climate and terroirs of the region.
Sebastian Zuccardi, third generation of the family with a young agricultural and winemaking team, produces his wines with the highest standards of quality.
12:30pm visit and lunch tasting at Salentein Winery
With a unique location, more than 1,200 meters above sea level, surrounded by their properties and literally in the foothills of the Andes. The cruciform construction is of an unprecedented design. Each one of their four wings constitutes a small cellar that has two sections: the first one – at ground-level – houses the tanks of stainless steel, while the second – underground – is used for the fermentation of the wine in oak barrels, to eight meters below ground-level. The four cellars unite in a central amphitheater and they share the modern cellar room.
4:00pm – Visit KDS Artisanal Handmade Cutlery
In a property in the Tupungato area, the family Karup- Pereyra Da Silva works making with love excellent quality handmade knives, brand KDS.
Return to the hotel. Night at leisure
Wednesday, November 15th - MENDOZA - BARILOCHE
Early departure to airport
Flight AR1692 MDZ-BRC 10:00am 11:50am arrival (to be confirmed)
Private transfer from airport to Charming Luxury Lodge & Spa
Double – Master suite with breakfast
Afternoon at leisure
8:00pm –  Dinner at Stag Resto
Thursday, November 16th - Bariloche
Enjoy your breakfast, a day to enjoy and relax at Bonita beach and the pool.
Total comfort is offered in the Private Spas that form part of each suite.
One can choose between a dry sauna, a double jacuzzi with ozonetherapy, a Scottish shower, and a Finnish shower with aromacolor therapy.
Each of these options are integrated into each suite, allowing the guest total control over his or her relaxation.
Charming is a place designed to astonish its guests with its beauty, luxury, tranquility, comfort, unforgettable views, and amiable service.
Suggested dinner at: ALTO EL FUEGO – Argentine Steakhouse
8:00pm Depart hotel for Dinner
Friday, November 17th - Bariloche
Enjoy your breakfast.
10:00am – Private Tour visiting Circuito Chico with Lago Nahuel Huapi ending at Civic Center in downtown
Time to relax for shopping and have lunch in downtown
Suggestions:
La Marmite for Swiss fondue, La Casita for local and European cuisine, Rapanui for Ice cream and gelato, and Chocolates del Turista for chocolates.

3:00 pm depart from downtown to hotel.
Suggested dinner at Il Gabbiano Italian Cuisine – Chef Noemi Barchetta
Saturday, November 18th - Bariloche to Buenos Aires
Private shuttle from hotel to Airport
Flight AR 1683 12:50 pm 2:50 pm Buenos Aires arrival
Late afternoon at leisure and shopping
Dinner at your choice
Sunday, November 19th - Buenos Aires
Morning to relax.
Lunch recommended at the Recoleta area.
Enjoy a visit to the Teatro Colon, the finest Opera House in Buenos Aires, in the afternoon,
English guide.
Last time for shopping or maybe treat yourself for a unique experience, at the AHIN WELLNESS
SPA at the hotel.
Night at leisure
Monday, November 20th - Buenos Aires to USA
Enjoy your breakfast!
Have your suitcases ready for check out, will have enough time to relax and find a place for lunch.
Check-out from hotel by 3:00pm
Will leave luggage ready in storage to be loaded close to departure time.
Private group transfer to International Ezeiza Airport. Departure To be confirmed.
BUENOS AIRES. SALTA. MENDOZA. BARILOCHE